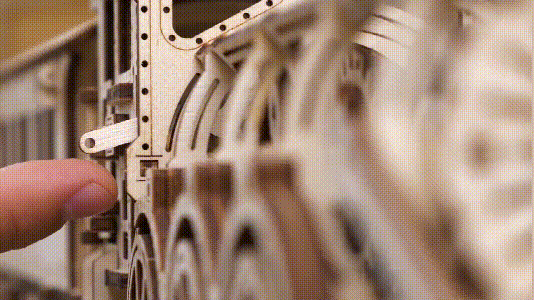 Train à vapeur ( degré de difficulté :⭐⭐⭐ ⭐ )
Ne soyez pas seulement un trainspotter, devenez propriétaire d'un train ! Cette forme de transport existe depuis des centaines d'années, mais comme tout fan vous le dira, l'attrait des trains est bien plus grand que le simple transport. La piste clic-clac. Les innombrables voyages de milliers de personnes. Le vent qui se précipite devant vous alors que le service express hurle à travers votre gare et vous fait signe d'adieu.
Jeep militaire ( degré de difficulté :⭐⭐ ⭐ )
Construisez votre propre Jeep Willys militaire à toit ouvert - Profitez du processus de regarder votre propre Jeep Willys militaire. Haut niveau de réalisme - Du moteur à combustion interne, à son arbre à cardan et ses arbres semi-essieux, ce modèle est conçu avec inspiration. d'une véritable jeep militaire Willys.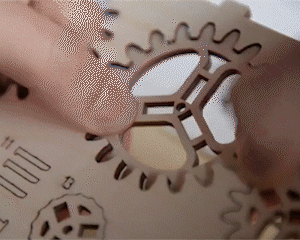 Heavy Duty Truck (degree of difficulty:⭐⭐⭐)
The truck is inspired by road transport trucks dating back to the 19th century. The characteristics of the vehicle at that time were perfectly copied into the miniature model with detailed structure.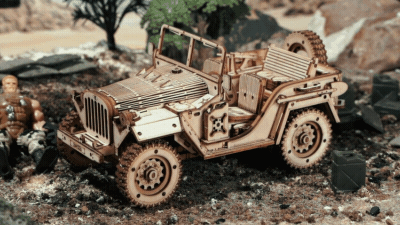 Grand Prix Car (degree of difficulty:⭐⭐)
Let our models lead you to the epic history of the vehicle advancement. Self-assemble, scale model, replica of classic vehicles, detailed structures.What a fascinating thing to see the mechanical miracle coming to life by your own hands.
Different from the traditional jigsaw puzzle, there are many reasons why the Wooden Jigsaw Puzzle is a great idea - here are a few of them:
Self-assembly
No glue required
Hand-cranking
Support mix-and-match
Rewarding challenge
Ideal gift and home decor