It's a must-have survival tool especially in winter. It ensures my survival and prevents me from catching a cold during this hectic season.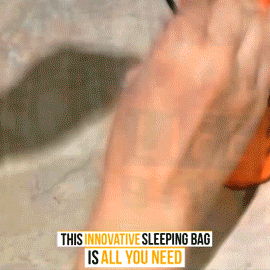 Always be prepared with our Outdoor Sleeping Bag! You can save yours and others live just by simply having this tool at your hands. It's essential to always have the outdoor Sleeping Bag whilst camping, hiking, sightseeing and even in the car.
You never want to be left stranded without this emergency tool as hypothermia can set in a matter of 5 minutes, hypothermia can eventually lead to complete failure of your heart and respiratory system and eventually to death. Hypothermia is often caused by exposure to cold weather or immersion in cold water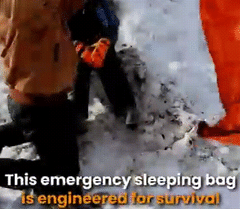 This tool is simple, compact and extremely effective allowing you to maintain the required heat you require to avoid any kind of hypothermia.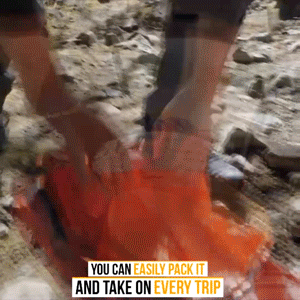 Main Features
The Weather Outdoor Sleeping Bag Is One Of The Best Survival Tools Ever.
Ultra Warm: Because it reflects 90% of your body's heat back to you it will absolutely keep you warm in the brutal cold. Plus you can slide it inside a sleeping bag and raise the bag's temperature rating by 20 degrees!

Waterproof & Windproof: Keeps rain and wind out, effectively protecting you from the elements. And unlike other emergency sleeping bags, it also features completely taped seams which creates an impenetrable barrier between you and what could kill you.

Super Durable: The heat-reflecting Mylar is coated with a special material. This material is stretchy, tear-resistant, and made to last. You can use it over and over again and it'll be there for you when you need it.

Super Lightweight & Compact: For survival, lighter is better. Weighing only 6.2 ounces and fitting in the palm of your hand it'll literally never weigh you down.

Super Easy to Use: Emergency situations are no time to deal with complicated survival tools. And even though it is light and compact, at 7 feet long and 3 feet wide it's super easy to get in and out of which makes it perfect for survival situations.

If you are not sure about the duration of your next trip, you should pack this bag just in case. It is lightweight, easy to carry and warms your entire body. Suitable for sleeping outside or even in your car.

Both shell and lining are made of high-quality PE. Thanks to the high-quality PE materials, the heat your body emits will come right back to you and keep you warm during the night, even if you are sleeping under the stars.

The bag comes in one size, shaped like an envelope and anyone can easily fit inside. We have had customers as large as 6'3 350lbs fit! So if you're wondering "Am I too big for this?" You have nothing to worry about. With the bright orange color, in case of emergencies, people will be able to easily spot you.
Why Must But This?
1. If you want to stay safe from brutal winds and rain
2. If you want to protect yourself from the number 1 danger in the wilderness - Cold
3. If nature is calling and you want to have an undisturbed experience
4. If you always think - safety first