RENEW YOUR COMPLEXION NATURALLY

TIRED OF OILY AND SHINY SKIN?
Relax... It has been proven that applying ice to the skin can help reduce pore size, benefiting those with oily or acne-prone skin.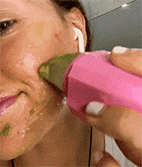 Ice and cold have long been part of facial therapies to keep skin healthy and glowing. Best of all, this treatment, which has proven to be effective, is very affordable and you can do it at home, without spending so much money at the SPA.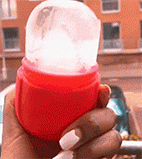 With the new facial care method give your face a makeover, this practical system helps you to:
✅ Reduce puffiness and dark circles under the eyes.
✅ Reduce the appearance of pores.
✅ Helps to firm the skin.
✅ Stimulates circulation, to reduce spots and wrinkles.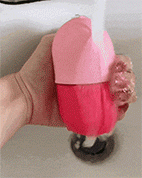 HOW TO USE IT?
Wash the mould before use and fill it with the liquid to be frozen, water, natural tonics, masks.
Then put it in the freezer until it becomes solid.
Leave out of the freezer for 5 minutes before use, you can put it under running water to gently remove the top cover.
Wash and dry the face. Always glide in an outward and upward motion over the face. Do not apply for a long time on the same area, always move all over the face, repeat 2 to 3 times a week and you will notice incredible changes.
FEATURES
✅ Multifuncional: You can include in your mixture natural products, oils, essences, fruits or seeds that help skin care, just add and freeze enough.

✅ Perfect for dry, combination or oily skin that looks dull or tired.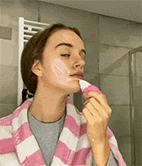 ✅ Lightweight and convenient: You can take it anywhere, it's easy to carry, it fits perfectly in your backpack or ladies handbag.
✅ It is the ideal gift for anyone who loves to take care of their face.
SPECIFICATIONS
✅ Material: 100% food-grade silicone.
✅ Colors: PURPLE - BLUE - PINK - BLACK
WHAT OUR CUSTOMERS SAY
Roxana Ariza
Bogotá
15-5-2023
Excellent quality, I have already used it and it works perfectly as advertised, 100% recommended.
Juliana Cepeda
Bogotá
13-05-2023
Very good product, I've used it a couple of times and the skin feels really different, it's very practical and easy to use.
Luisa Castro
Medellín
02-06-2023
Excellent, the material feels quality and is very soft and easy to use, I didn't know how to use it at first, but thank you for the advice you gave me.