Absorbency like 5 tampons
- Ultimate comfort
- Absorbent and leak-proof
- Extended protection for safety
- They look like normal panties
"I just used them for the first time and I am positively surprised. Panties comfortable and well made, Quality is very good . I purposely wore on the second day of my period when the bleeding in me was the greatest. Throughout the day I walked, lay, sat and nothing leaked. I recommend and will definitely buy another pair."
--Catherine
WHY CHOOSE US?
Are you really fed up with the struggle for survival and the many accompanying stress-filled situations that come back like a boomerang every month?
Tired of buying piles of uncomfortable sanitary pads or tampons that require almost sterile conditions for safe application and then leak at the least opportune moment?
Do you dream of making it through the days without any hygiene products, but are sure it's impossible?
Every month you wonder for what sins you have to suffer like this and live in constant tension for days and nights ?
As it happens, it is quite the opposite, and our menstrual panties are the best example of the fact that your period is not the end of the world and you can, and even should, enjoy life to the fullest on all days of your cycle.
They will work well for people from their first periods, that is, from about 12 years old.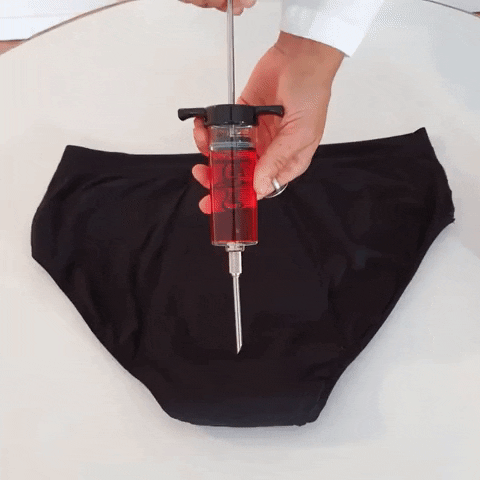 COOLNESS - Thanks to the latest LeakProof absorbent technology, our underwear won't leave moisture or stains on your clothes.
MAXIMUM COMFORT - Finally, you can live your life with peace of mind, no wet feeling, no leaks no bad odors.
ELEGANT - No diaper effect, elegant appearance.
OUR HEALTH BEFORE EVERYTHING - Since we no longer want products with toxic ingredients that harm us, we have developed a natural way to prevent this....
SAVE THE PLANET - With it, you're helping to save the planet!
WEARING THESE MENSTRUAL PANTIES IS LIKE WEARING 4 TAMPONS!
Say goodbye to unwanted leaks and gain peace of mind. Lina's sensual menstrual panties will revolutionize your menstrual cycles.
Spend all your sleepy nights without having to change sanitary pads or tampons every hour.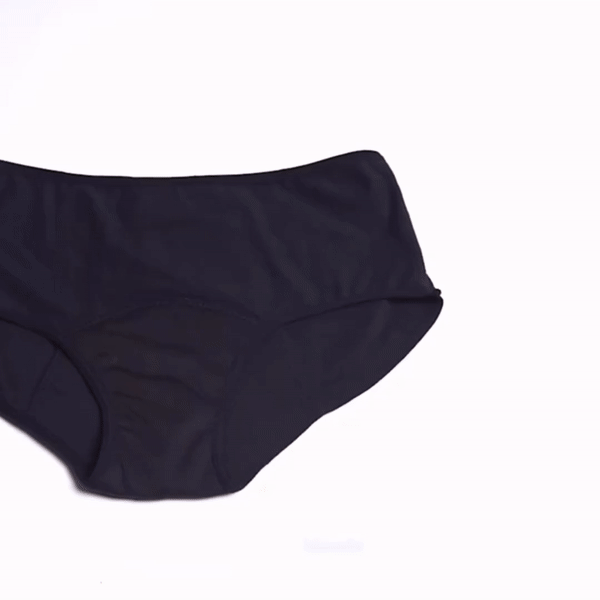 No more toxic shock risk (TSS), Panties are safe!
Comfortable and thin for optimal fit.
Completely reusable, just wash.
Save hundreds of zlotys by choosing Menstrual Panties.
ENVIRONMENTALLY FRIENDLY MATERIAL
Inner layer: 100% Cotton
Absorbent layer: 70% bamboo + 30% Cotton
Waterproof layer: PUL
Outer layer: 95% Bamboo + 5% Elastane
Adjusts to your heavy menstrual periods
It helps women do without the toxic products imposed by the hygiene lobby. Our panties leave no odor or trace of moisture and won't stain clothes.
HOW TO WASH MENSTRUAL PANTIES?
After each use, rinse by hand in cold water .
Wash in the washing machine with other underwear at 30 ° C .
Dry naturally, do not put in the dryer.
WHAT IS THE ABSORBENCY?
Too heavy bleeding, which is combined with the need to change the pad or tampon every hour , but as of today there are Clark Menstrual Panties , which will give comfort for up to 12 hours of protection.
All our fabrics are certified OEKO-TEX 100 standard, which proves their high quality.
HOW DO THEY WORK?
You're probably rubbing your eyes in amazement and wondering how it's possible to get through your period without sanitary pads, tampons or pads. Thanks to the advanced underwear formula, which we owe to the highest quality materials.
Our menstrual panties will provide you with leakage protection for up to 12 hours, which means a restful night's sleep without night wakings and a full day without changing sanitary products in conditions that leave much to be desired.
It's not just a backdrop for tampons and a second precaution against staining your pants. Our panties are highly efficient and effective protection in themselves.
You don't have to worry about feeling wet - the liquid directly enters the
into the highly absorbent liner, which also nullifies unpleasant odors.