WHY YOU WILL LOVE THE Pet Grooming Brush
- Pet Grooming Brush facilitates up to 85% more removal of loose hair from the top coat and undercoat reducing shedding and allergenic dander.

- Pet Grooming Brush has 140° bent needles designed to penetrate deep into the coat and it's really easy to groom the undercoat well.


- Pet Grooming Brush has skin-friendly massage needles. The metal pins on the brush have round resin tips on the ends which are great for short haired pets as well. As a pet deshedding brush, it's perfect for shedding and massaging your pets without scratching your pet's skin.

- Pet Grooming Brush is a washable stainless steel needle which is easy to clean after use and is environmentally friendly material safe for your pets.
HOW TO USE YOUR Pet Grooming Brush
Pet Grooming Brush has a one click cleaning button. Which means after brushing your pet, simply click the button. The shutter will pop out, separating the brushed hair from the metal needles, then wipe the hair off. It's that simple and easy. For the best results use short gentle strokes going from neck to tail avoiding less fur covered areas like the stomach. Repeat as many times as needed and always remember to use on a dry coat for the best results. Plus you'll get instructions on use delivered with your product.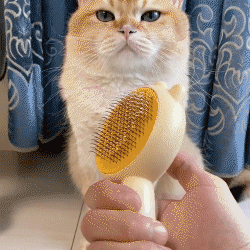 WHY IS THE PET GROOMING BRUSH BEST SELLING PET BRUSH?
This brush that removes hair more efficiently and keeps your pets coat healthier than any other pet brush on the market. This is the reason why we have so many pet owners and groomes using our brush.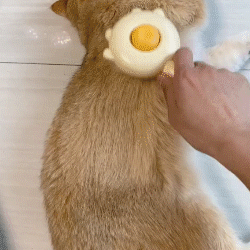 WE'RE BACKED BY PROFESSIONALS
Pet Grooming Brush is tested and recommended by Veterinarians to be used on your four legged friends. Vets recommend to use the Pet Grooming Brush every couple of days no matter the length of their coat. This will remove dead hair, distribute natural oils for a clean and healthy coat, stimulate the surface of the skin and get rid of the dead and dry skin.
Specification
Net weight of product: 81g
Product gross weight: 119g
Product size: 195 * 84 * 46mm
Color: green, orange