Automatic Water Level Control Valve 
【Auto function】Flair-gorgeous the float valve automatically refills water for your water tank,water tower,livestock,animal water drinker when water drops below the valve level. Once it reaches the valve, it would automatically stop refilling water,so it will shut-off when the water reaches the internal float.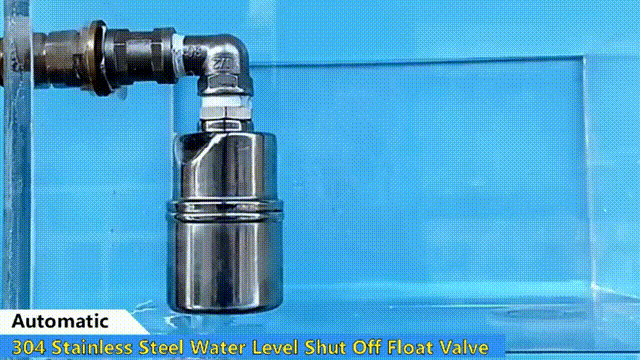 【Easy to install】It's a mini float valve,Flair-gorgeous branded ball size is small,so easy to install,the male thread are 1/2" and 3/4", we used BSP pipe thread,also the male thread is longer,it's perfectly to fit most of BSP thread connections. If your pipe thread is NPT,you just need to add a few PTFE TAPES on the male thread,then it works perfectly as well.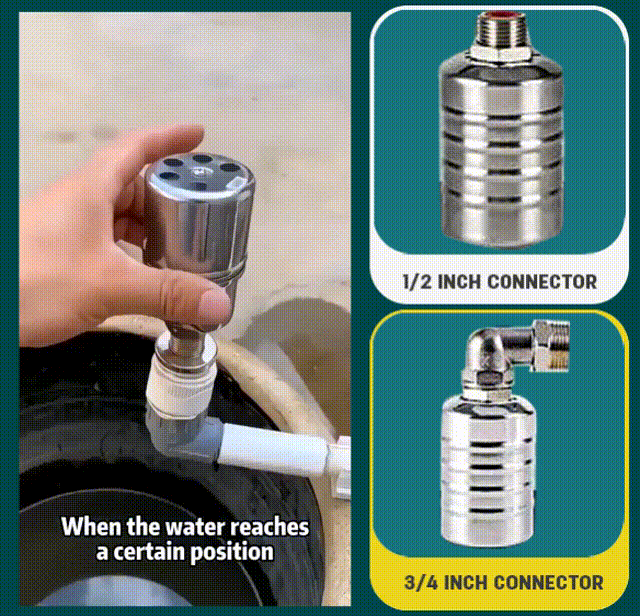 【No electricity needed】A ball float valve inside allows water to flow until a specific level is reached. Once the water reaches this level, the float valve will be pushed up with water due to buoyancy and stop the flow of water. When the water level starts dropping, the valve will open again, and the water will start to flow again,so no need electricity.

【Widely used】It's used for people to maintain the water level in a garden waterfall, on a yard fountain,for a rain gutter garden project,using it to make an automatic shut-off for swimming pools,for chicken coops,for automatic chicken water drinker,for cattle watering drought,for rain collection barrels in the outdoors etc.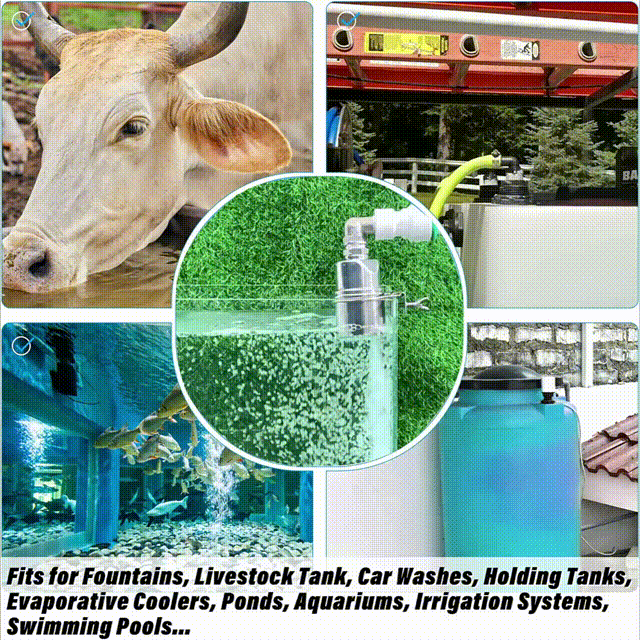 【Working Water Pressure】The float valve works with 10psi to 150 psi water pressure,if water pressure is too low or too large,the float valve will not suitable for using, it will not work or be damaged. Working Temperature: 0°C~100°C.

【Easy maintenance】The float valve comes with filter,It can automatically filter sand and stones and will not block the faucet.

【Safety and environmental protection】We used stainless steel as the valve body, used stainless steel screw, never rust,very safe.
Specifications
Material    ‎Stainless Steel
Brand    ‎MEUPMEOP
Exterior Finish    ‎Stainless Steel
Inlet Connection Size    ‎1/2 Inches
Inlet Connection Type    ‎BSP
Outlet Connection Type    ‎BSPT
Maximum Operating Pressure    ‎10 Bars
Outlet Connection Size    ‎0.5 Inches
Valve Type    ‎Float Valve
Manufacturer    Flair-gorgeous
Item Weight    ‎5.8 ounces
Package Dimensions    ‎4.53 x 2.36 x 2.32 inches
Finish    ‎Stainless Steel
Shape    ‎Round
Cutting Diameter    ‎2.12 Inches
Usage    ‎Inside
Batteries Required?    ‎No
Assembled Diameter    ‎2.12 Inches