🔥🔥 Pneumatic air nailer that saves time and effort, a high performance tool! ! It is highly recommended to have one. 🔥39% off for a limited time!

Reminder: The air nailer is powerful, please do not point the product at people, please take good protection when using it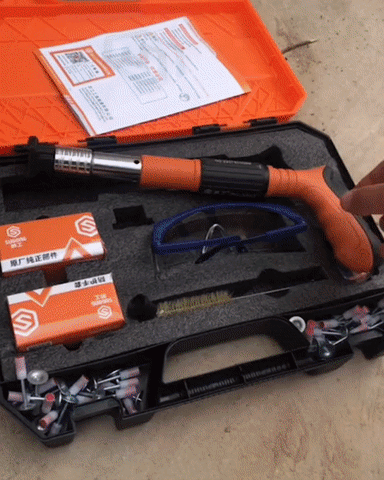 Double silencer. The thicker steel muffler reduces noise, is safer, and the construction environment is more comfortable, without disturbing your family and neighbors.
There are many uses, suitable for red brick walls, concrete walls, 8mm aluminum alloy wire pipes, thick wooden boards, etc. Without a lot of dust, energy saving and environmental protection.
Power control: 4 levels of adjustment, can be adjusted according to different building requirements
Light and Simple
Less than 1 kg, user-friendly shape, stable operation and easy to transport to different sites. And thanks to its unique technology, there is no need to transport additional power or gas cylinders, including a power supply.
 Small Head Design
This steel air nailer features the latest small head design to support the installation of different size holes, suitable for driving different size fixings on roofs, and the removable handle design allows it to be attached to an extension cord. No need to climb to perform work on high ceilings. (Extension cord not included)
 Adjustable Depth Control
The adjustable depth control allows you to set the exact depth of the nail for professional results.
 Package includes: 1x Pneumatic Nailer + Nails (Optional Quantity)