If your toes are sore from corns, blisters, calluses, or a broken toe, you need cushioning to help relieve the pain so you can stay active at home and at work.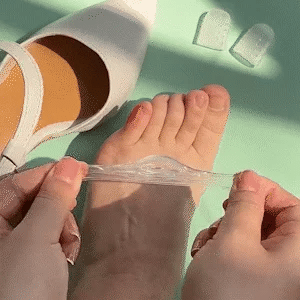 Silicone toe protectors are flexible cushions that help keep pesky issues out of your way. It creates a barrier between the skin and the footwear to help reduce pain and provide you with excellent cushioning and long-lasting comfort. With it, you'll find it easier to live an active and healthy lifestyle without the pain.
Features
Relieve Foot Pain - Silicone toe protector can help you relieve hammer toe, toe blisters, calluses, corns and other toe pain. Relieve foot pain and pressure, relax your feet. Separate overlapping toes to reduce friction and pain between the toes.
Soft Material - Silicone toe protector is made of durable, non-slip and stretchable gel silicone material, which is odorless and does not irritate the skin. They are also washable and reusable.
Special Design - Improve the ventilation design according to customer requirements. The perforated silicone toe protector can effectively improve breathability, reduce sweating problems in daily life, and prevent chafing and skin irritation. The slim fit provides a secure and secure fit around your toes.
Stay in Place - Silicone toe protectors fit most small toes for both men and women, and they fit for kids and children as well. Soft and stretchy materials make it stay in place well. Will not fall off. They can be worn with socks and shoes as well.
Easy to Wear - Silicone toe protector is elastic and easy to wear. The slim design also fits well with most shoes, boots or sneakers. Loose-fitting shoes are recommended.
Specification
Material: Silicone
Thickness: approximately 2mm
Package includes: 10/16/30 pcs